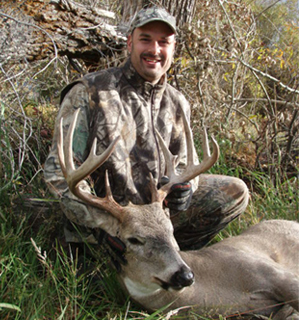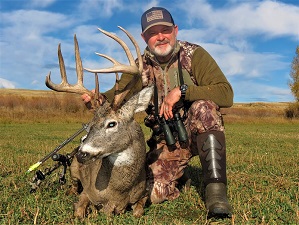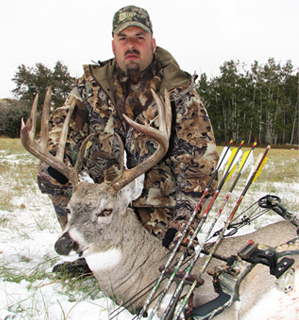 The October Lull...? Not here in Montana...! The first two weeks of October here in Montana are quickly becoming one of the best times to harvest mature whitetail bucks here with your bow and arrow. When the leaves have changed and the weather gets colder over night, October whitetail hunting is at it's best here in Big Sky Country!. These mature bucks know the seasons are changing and they better hit the food sources hard to prepare for the upcoming Winter months as well as the rut which robs them of valuable calories and stored fat reserves.
All our private bow hunting ranches have loads of irrigated alfalfa, oats, barley, and wheat fields that literally get covered up with deer when the temperatures start to fall in early October. Glassing these irrigated fields in early October reveal a definate increase in deer movement with plenty of quality bucks out in the open vulnerable to bow hunters staged on the edges of these food sources. I personally have seen some of my biggest bucks in Montana during these early October weeks feeding in irrigated crop fields 1 hour before sunset. If your a serious whitetail hunter, you can't go wrong going after big bucks in Montana during the "October Lull".
Hunting trophy whitetails in October is definitely a excellent time of the year with awesome hunting weather as well as soaking in the entire "Montana" bow hunting experience. You'll get to see breathtaking scenery with snow capped mountains, enjoy fantastic trout fishing, and of course, lay eyes on plenty of whitetail bucks with opportunities to harvest your biggest whitetail with a bow! A lot of clients have hunted with us and have taken their biggest archery bucks. Also, we have had 6 years where the biggest bucks of the season have been taken by our clients here in early October!
Here in Montana, with so many animals it is both challenging and also rewarding at the same time. Due to the shear numbers of whitetail deer, getting into a stand without making your presence know is almost impossible, there are deer everywhere you go. You will still see plenty of animals, and some really good bucks during your tree stand hunts. A lot of the biggest bucks, (over 5 ½ years old) can be reclusive at this time and only show themselves duirng favorable conditions convenient to them. They require some form of approaching storm front (bad weather) or a favorable moon phase in order to catch them slipping up during this time of year, and it almost always happens in early October. We have had a lot of great mature Pope and Young whitetail deer taken by our bow hunters during the weeks of October. Our private river bottom leases provide one of the best places in the country to hunt trophy whitetails during this time of year.
The 4th week in October is the opening week of gun season here in Montana. Which requires all hunters afield, both gun hunters and bow hunters to wear at least 400 square inches of hunter orange. The last week in October are where we book our trophy mule deer and trophy antelope rifle hunters. If we do not book our limited spaces that are available for our mule deer and antelope rifle hunts, late October still provides very good activity as younger bucks and plenty of 5 ½ year olds are getting fat reserves built up and can be effectively hunted between food sources and in travel corridors focusing on feeding patterns and pre-rut behavior.
Calling techniques such as light sparring and grunting are well worth a try at this time of the season. This is a period we can accommodate both mule deer hunters and whitetail archery hunters without conflicting on each others hunting areas. Trophy mule deer and trophy antelope hunters will be hunting areas that have provided excellent success in the past which lays well outside our river bottom whitetail areas.
Weather at this time of the year changes quickly and it is best to pack clothing for warm days, cool afternoons, and cold temperatures that can greet you in the ealry mornings. These whitetail deer know the seasons changing and if your not here to take advantage of it, your missing one of the absolute best times of the year to harvest a mature Montana trophy whitetail deer, and quite possibly, your biggest buck with a bow!