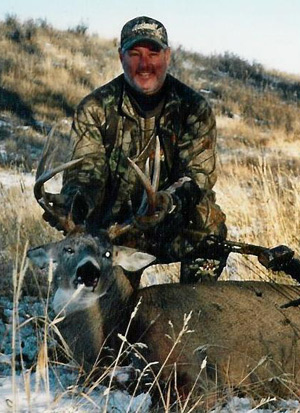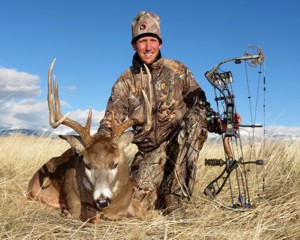 Everyone wants to hunt the November rut, and for good reason. If you have experienced a November rut hunt on one of these private Montana river bottoms, you know how exciting it can be. If you haven't, you will most likely have the hunting experience of a lifetime watching the events unfold right before your eyes from your elevated position.
We have roughly 5 miles of private river bottom for bow hunting during the general firearm season here in Montana. That gives you bowhunting opportunities on properties during the month of November for a extremely high quality hunting experience. This is a intricate piece of our bow hunting management that allows these bucks to grow old enough to reach maturity. Limiting the amount of gun hunting on our private river bottom lands guarantees a high turn over rate for older aged bucks on our properties. Allowing our archery clients the opportunity to harvest 5 -1/2 year old bucks is the norm, not the exception.
Snow and cold weather is always a factor and usually greets hunters during this time of year. Activity is high, as daily reported buck sightings from our hunters can range anywhere from 5 to 15 bucks in a single day. There are not too many places in the country that can offer a concentration of trophy class whitetail bucks than right here on a Montana river bottom during the peak of the rut!
All day hunting is recommended especially when a full moon coincides with either of the last two weeks in November. Buck sightings during mid-day are normal as some of your biggest bucks will be seen during this time. Once early morning frost is burned off the grasses and forbs as the temperature and sun rises, whitetail does are attracted to these softer, more pliable food sources and attract rutting bucks out into the open to join them. Trophy whitetail bucks just can't resist checking them out at this time of year.
Rut hunts are the 3rd & 4th week of November and can offer some of the most exciting hunts of the year. Rattling, grunting, estrous doe bleats, and decoying are effective at this time of year on these Montana trophy bucks. Our trophy whitetail deer hunts in November offer you a chance at some of the largest bucks on these ranches searching for and following receptive does to and from bedding and feeding areas. This is also the time of the year when we can get a little more aggressive in stand placement. There are some stands that we only hunt during this time of the season. These stands are set deeper within the structure of the river bottom and closer to bedding areas for some really hot whitetail rut action.
With bucks being unpredictable at this time, hunting them with the same mindset can be very effective. You simply cannot let your guard down at this time of year. These hunts usually fill up first and are best if booked well in advance. Rest assure, every week of the Montana hunting season, September through November, we can provide our hunters an excellent chance at harvesting a mature trophy buck. However, there is something truly magical about those frosty November mornings that will send chills through you every time you hear footsteps coming your way!