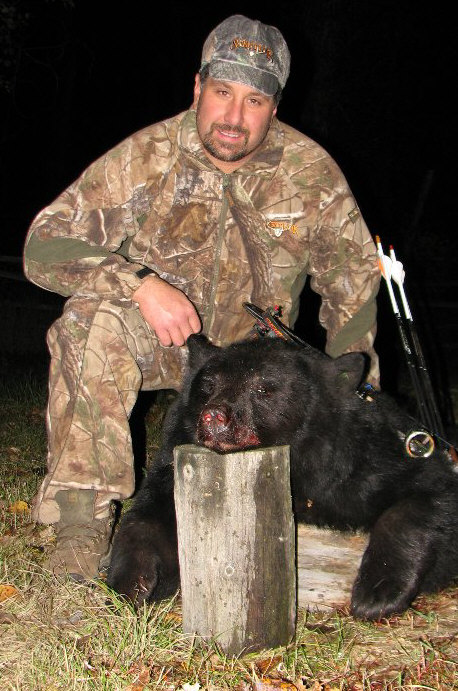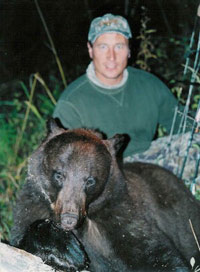 Montana has a Fall archery season for black bears! We are located in Bear Hunting District 580. Our river bottom leases are full of choke cherries during early Fall which really attracts and holds a lot of black bears and have been increasing in numbers over the years. Some having a color phase coat such as cinnamon, blonde, and even chocolate. The best period to bowhunt them on our private leases is during September through the first week in October. A lot of our whitetail bowhunters in September through early October are seeing bears from their tree stands, and a lot of them within easy bow range! Most of the time, they are passing through as they are nomadic in their travels. However, they are usually on our leases consistently during archery season after choke cherries and provide an excellent Montana trophy if an opportunity presents itself. Hunters booking a hunt for whitetail, mule deer, elk, or antelope can purchase a bear tag as well and bowhunt them from tree stands or ground blinds while pursuing other game animals. A perfect combo hunt for whitetail bowhunters coming during September through the first week in October is adding a archery black bear hunt for a truly unique Montana bowhunting experience!. Please check with Montana Whitetails for the latest in bear hunting seasons and regulations for our area as they change from time to time.
Montana Fall black bear tags are over the counter, however they must be bought before August 31st. In addition, a bear identification test must be passed before purchasing the black bear license. The test is basically a black bear/Grizzly bear identification. A Montana black bear identification test can be completed online, as well as the purchase of your Montana black bear tag after completion of the test through the Montana Fish, Wildlife, and Parks website at http://fwp.mt.gov/hunting/.
DATES AND RATES
Prices include meals, lodging, and transportation pick-up/delivery to camp from Bozeman airport. A Montana black bear license must be purchased by the hunter/client.
TYPICAL HUNT DATES:
Archery hunts are from Saturday to Saturday - Sept & Oct
ARCHERY WEEKS
Hunt #1 First week in Sept.
Hunt #2 Second week in Sept.
Hunt #3 Third week in Sept.
Hunt #4 Fourth week in Sept.
Hunt #5 First week in Oct.
Hunt #6 Second week in Oct.
7 Day Black Bear Hunt: $4,495.00
7 Day Archery Black Bear or Antelope/Whitetail Deer Combo Hunt: $5,995.00
Harvest Black Bear on Elk or Deer Hunt: $2,500.00
( Please check with us for the current dates set by Montana FWP)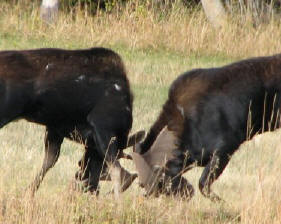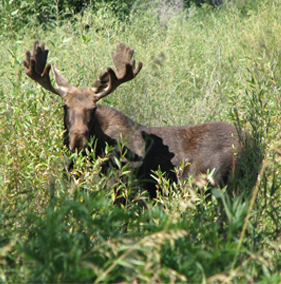 Shiras moose are the smallest of the four sub species found in North America. Montana produces some good trophy-class Shiras moose. Since the 1930's when records were first kept, 145 Montana moose have surpassed the Boone & Crockett minimum score of 155. That score is a combination of the width and length of the antler palm and the number of points on the edge of the antlers. Since 2000, 19 moose have been recorded at or above the minimum score of 155. The largest male moose on record in Montana weighed 1,117 pounds.
Although Moose generally doesn't come to mind when you think of Montana, we have a good population of Shiras Moose on our properties. Year round water sources like the Shield's River, thick willow swamps, and lots of privately owned irrigated alfalfa, barley, wheat, and oat fields gives these resident Moose everything they need to become fully mature and grow good sized antlers.

Our private river bottom properties consisting of thick willows and wet lands, is perfect habitat for these Shiras moose to call home. Miles of quality habitat keeps these Moose on our properties through the Fall hunting season. September our whitetail bow hunting clients are always seeing bull Moose traveling by their stands as they search for receptive cow Moose in the area. We have a resident moose population on our private river bottom leases with an average of 12-15 bulls seen each year.
You may apply for a moose tag through the Montana Fish, Wildlife, & Parks website online. We are located in Moose Hunting District 303. These moose are virtually un-hunted and can often be seen while bow hunting through the Fall. A trophy moose is not hard to come by, unfortunately, a non-resident moose tag is. However, if you are fortunate to draw a non-resident moose tag, and need a place to hunt for trophy Shiras moose, give us a call. We can provide you a wonderful experience on a relatively easy hunt. Bow hunters will be placed in our tree stands along swamps and willow thickets know to see lots of Shiras Moose traffic during the rutting season. Calling these Moose in are fairly easy as they are very receptive to calling.
Moose season generally runs from mid September through the end of November with late September probably the best time to bow hunt. Montana's moose application deadline is May 1st. More information plus a copy of the moose hunting regulations can be found on the Montana Fish, Wildlife, and Parks website at www.fwp.state.mt.us.
RATES
Prices include meals, lodging, and transportation pick-up/delivery to and from Bozeman airport. (A tag must be provided by the hunter through the general draw for Moose Hunting District 303.)

Shiras Moose Trophy Archery/Rifle Hunts: $9,995.00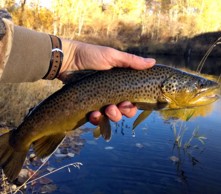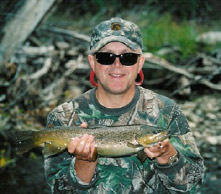 Montana offers some of the best trout fishing found anywhere in the country. We can offer some fantastic trout fishing to those who book a hunt with us. During midday or after your deer tags are filled, you can enjoy some fantastic trout fishing right here on the Shield's River. Our lodge is situated within the Shield's River valley for some great fishing opportunities. And, we're only a short drive from the Famous Yellowstone River. We strongly recommend catch and release of these native wild trout that choke these cold clear mountain waters. Cutthroats, Browns, Rainbow's, and Brook trout are plentiful and a great way to break up your hunting vacation. A fishing license comes with your combination deer and elk License. So if you enjoy trout fishing, bring your rod and experience some of the best wild trout waters in America. We have miles of private access on the Shield's River close to our lodge for your enjoyment during your elk, deer, or antelope hunting trip with us here in Montana.
The lodge has it's own private stocked trout pond right off the front porch for our clients enjoyment. Fishing rods, both spin casting and fly rods are provided for anyone that wants to fish the trout pond or the Shield's River which we have private access too. We have assorted lures and flies you can use or you can bring your own. Fire Tiger Rooster Tails are a top choice as well as any insect larva, nymphs, or hoppers for fly fishing. We require the use of barbless hooks in our private pond as well as catch and release. These trout are big, well fed, and put up a good fight...!
Region 3 is also headwaters to some of the most renowned trout rivers in the U.S., including the Madison, Gallatin, Jefferson, Upper Missouri, Upper Yellowstone, and Big Hole. These rivers can be fished while staying with us if you rent your own transportation at the airport. Then you can plan a day trip to fish one of these well known wild trout rivers during your week stay at your own expense. You must provide your own maps or purchase them once you arrive here in Montana. Traveling to fish is not a service that is included in your hunt, but an opportunity to fish some of the best wild trout waters in the United States.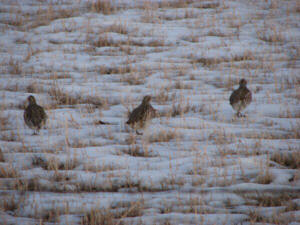 Once filling your Montana deer tag, you can fine tune your sharp shooting skills on some of Montana's upland birds which can be found on our leases. Hungarian Partridge can be found on several of our ranches mostly sticking to small coulees choked with cover, brush filled tree lines bordering open crop fields, or sage covered transition areas. This is just one other way to break up your hunting trip and enjoy what the great state of Montana can offer to sportsmen.
PARTRIDGE HUNTS:
Statewide season for hungarian partridge generally runs from September 1st through January 1st.
Bag Limits: 8 in aggregate daily, possession limit is four times the daily limit.
Means of Taking: Hungarian Partridge may be taken with a shotgun not larger than a ten gauge; or with a long, recurve or compound bow and arrow. All other means of taking are prohibited.
Statewide season for ring-necked pheasant generally runs from October 8th through January 1st.
---
PHEASANT HUNTS:
Bag Limits: 3 cock pheasants daily. Possession limit is three times the daily bag limit.

Means of Taking: Pheasants may be taken with a shotgun not larger than a ten gauge; or with a long, recurve or compound bow and arrow. All other means of taking are prohibited.

Transporting Pheasants: It is unlawful to possess or transport within the state any pheasant unless one leg and foot are left naturally attached for evidence of sex. The leg and foot shall remain attached at all times while being transported from the place where taken until they have arrived at the permanent residence of the possessor.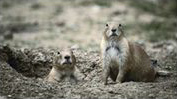 If you like to shoot prairie dogs, we can offer our hunters plenty of private land to hunt, where prairie dogs are living and multiplying. In Montana, the prairie dog is not considered a game animal. It is viewed as a pest. You are not required to have a hunting license. There is no closed season on private property. Certain government owned lands have restricted hunting seasons. You are not required to wear hunter's orange while in the field. You may use any caliber gun to hunt prairie dogs. There are no bag limits.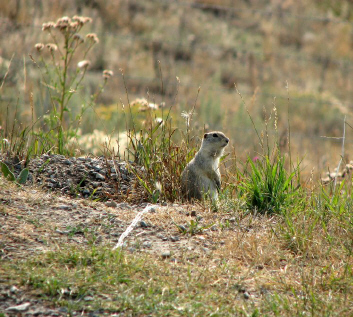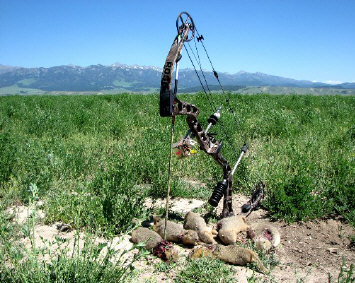 We can offer prairie dog hunts during the Spring and Summer seasons on private ranches here in Southwestern Montana. Typically, April through August are great times to experience some fantastic action on these private ranches! These hunts can be a blast…literally! We'll provide the lodging, meals, airport shuttle, and transportation during your prairie dog hunting trip in Montana! Be prepared to shoot sometimes, up to several hundred rounds a day. You provide a gun/ammo. I suggest that your primary gun be a bolt-action rifle and equipped with at least a 10x scope for accuracy. A more powerful scope may be advantageous, however above 12x you will want to use an adjustable scope (for the closer shots). Shots can be as close as 40 yards out to 200+. The dogs we have here are Richardson Ground Squirrels and are smaller in size than the prairie dogs of South Dakota and other well known dog hunting areas.
For close in shots the .17 & .22LR are plenty. You may also want to use a 22LR handgun for great sport on some shots. The distance you are shooting and the wind conditions may be an issue with these smaller calibers with lighter loads. But the cost in ammunition burnt through the muzzle is a lot more economical. The next step up in caliber that I'd consider would be the .220 Swift. This load would handle the intermediate ranges. For all around use and flexibility, my favorite is the .223 (specifically the 55gr, ballistic tip). Limited recoil, accurate, economical and effective. If you are looking to "reach out" and touch a long-range target, you might consider the 22.250 or.243 caliber. larger calibers than the above fall into the heading of "personal preference". Suffice to say, if you like to shoot prairie dogs with a .308 or 30.06 round … go for it.
Our 4 bedroom, 3 bath modern ranch home provides comfortable lodging during your prairie dog hunts here in Montana. A typical day will involve 6-8 hours of shooting time with lunch provided at mid day. Transportation to and from several ranches and thousands of acres of dog hunting towns!...all inclusive prairie dog hunts, you supply your own guns and ammo, we'll provide the rest! Come enjoy this beautiful countryside while taking part in some of the hottest action of the Summer!
PRAIRIE DOG DATES & RATES
May - July
(Rates include lodging, meals, airport shuttle, and transportation to hunting grounds during your stay)

Montana Prairie Dog Hunts: $500.00/Person Per Day. No License Required.
Minimum Two People
GRATUITIES GREATLY APPRECIATED:
Gratuities are greatly appreciated by the guides and cook as this is a significant portion of their income. This is a reflection to them of a job well done. An average guide tip is typically 10% of the cost of the hunt. If you feel that your guide exceeded expectations, that will often be rewarded by exceeding 10%.