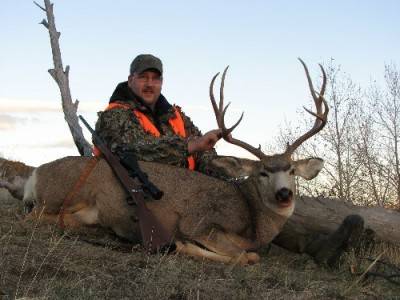 I have been very fortunate to have hunted with Montana Whitetails since 2003. From the first time that I first stepped off of a plane in Bozeman I have been enthralled with the beauty of the state of Montana.
In the time that I have been hunting with Montana Whitetails I have taken some more than respectable whitetails along with a number of mule deer doe.
Try as I might, I had never been able to connect on one of those wide racked muley bucks that I would see driving around the numerous ranches that Keith has leased.
In 2006 I made the decision to hunt the opening week of riffle season. I love to archery hunt, but I felt that my best opportunity at a mule deer buck would be to reach out and touch one if needed. Truth be told, the hunt for "my muley" lasted less than one day. On that first afternoon Keith and I were accompanied by another hunter (Karl Valkenburg) on a spot and stalk hunt.
Keith had scouted a bachelor group of bucks that were bedding in a coulee. As we approached a small rise there were four bucks on their feet. The game plan called for me to shoot first and Keith hoped that the echo from the shot would confuse the rest and keep them pinned down. I have to admit, two years later, that I was skeptical, but Keith knows his stuff so he didn't have a difficult sales job in convincing me to go for it.
We glassed the deer for a little bit and found what was the largest buck on his feet and a 200 yard shot anchored my first mule deer buck. With a gross score of 154 and some change this 5 x 5 was just what I was looking for. This is were the story gets interesting. Just like Keith had predicted, the other bucks were not sure were the noise was coming from and they just milled around as Karl prepared to take his turn.
As Karl was getting into position another buck that was still bedded (we didn't see him) stood up and our jaws hit the ground. There stood a 15 point non typical that grossed in the hi 160's. Carl was able to drop this buck with his .308 pistol and we had two great mule deer bucks on the ground. Fortunately, after your buck is on the ground you don't have to stop hunting as doe tags are numerous if you buy them ahead of time so the rest of the trip I was on doe patrol. If you are looking for a reasonably priced hunt in one of the most beautiful regions of the country this is one place you have to try. Just for sheer numbers of deer, Montana Whitetails is second to none. And don't let yourself be fooled, the quality animals are there. If you need more proof of that just spend some time on the picture page on this site.
John Lenox