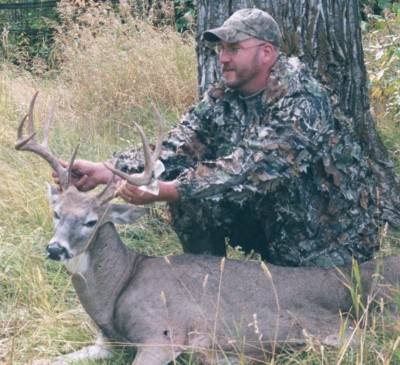 As I get older I am learning to stop taking things for granted. Friends and loved ones begin to take on an extra special meaning, my time in the woods is far more precious, and time in camp with buddies provides me with the opportunity to create memories that I hope to take to my grave.
One other thing that I have come to not take for granted is my annual trip to Wilsall, Montana to hunt with Keith Miller and Montana Whitetails. Don't get me wrong, I love to hunt the woods in my home state of New York, but there is just something magical about the state of Montana.
From the snow filled mountain tops of the Crazy and Bridger Mountains to walking the Holliday Ranch (Yes, that is Doc Holliday from Wyatt Earp Fame) I never get enough of this place.
In 2005 I was hunting my favorite ranch. There isn't anything different about this stretch of river bottom when compared to the other 12 miles that Keith leases but for some reason this is the place I feel most comfortable.
I was sitting on an ox bow off of the shields river in a stand that I call "The Point". These river bottoms here are lush and full of thick tangles and great bedding yet they are surrounded by alfalfa fields. At times it can be just a matter of playing the wind correctly and being patient and on this Mid September morning that is exactly the way that it played out.
It was Wednesday Morning, my third morning in this stand. Deer activity had been hi all week but everything was skirting just out of range. For the first day and half it is quit exciting to see all of the deer, but after while you begin to feel the frustration setting in, "Why can't they move just 10 yards closer when they come through?"
As the sun broke on this memorable day I caught movement in the river (We call it a creek in New York, but our creeks don't hold the amount of trout that The Shields does) and noticed four bucks crossing about 60 yards behind me.
Once again I found myself praying to the deer gods. "Please let them move closer".
One by one they passed at 50 yards plus. With one buck left I was on pins and needles, could this happen? Sure enough this dude followed a path of his own that brought him within 35 yards of the stand and I was able to zip an arrow through his vitals. Apparently he didn't read the memo about keeping at least 50 yards from tree stands.
After a short 40 yard tracking job I had my best whitetail to date. He scored 136 as a 9 point. I can't tell you how happy I was.
Once again, I had doe tags in my pocket (doe patrol again) and a fishing license to keep me occupied for the rest of the week.
If you are looking to find out more feel free to drop me an e-mail at arrowflinger80@yahoo.com, or call me at 585-928-2188.

John Lenox