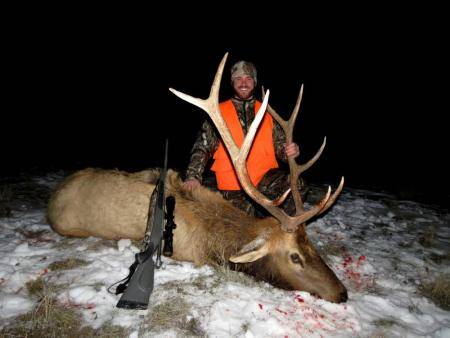 My hunting experience in Montana and with Montana Whitetails was remarkable. This was my first time out in Montana and I had both an elk and whitetail tag. Our hunt was the final week of the season over thanksgiving week when there was snow on the ground. My goal of the trip was to harvest my first ever bull elk and hopefully get the opportunity at a big whitetail as well. The first time we got out in the field I was not prepared for the amount of Elk we saw. Hunting with my father and Rob we glassed the herd of over 500 strong all day long not able to get any closer.

The next morning I decided to go out for whitetails and sure enough after seeing over 70 deer by 9 am I had my first Montana whitetail on the ground. My focus was then to get on a bull Elk. Rob and I decided to go out just the two of us one afternoon so we could cover ground faster.

After locating the huge heard and the sun setting we decided that we needed to make a move now. Once we got close enough we had to crawl through the snow on our stomachs for about 150 yards until we got into a position overlooking the herd. We glassed the heard for about 5 min until we saw the bull we wanted. I got set up with my 7 mm mag and had the bull in my cross hairs at 500 yards. Rob set up a rest for me in the snow and I slowly squeezed off the trigger. When the smoke and mayhem of the shot cleared, I had my first ever Montana bull Elk. We worked hard to get close enough to this huge herd and with the help of the amazing guides at Montana Whitetails my dream came true. I would recommend this hunt to anyone who wants to see hundreds of deer and an amazing Elk population in the area. I plan on coming back for another Elk hunt with my bow during the rut.

Editors Note: Travis's father Rick harvested a 11 point Whitetail Deer during the week and his photo is posted below in the gallery.
Travis Andrews